Taking imaging into the therapeutic domain: self-regulation of brain systems for mental disorders (BRAINTRAIN)
Project ended in October 2018.
The BRAINTRAIN project uses real-time (rt) functional magnetic resonance imaging (fMRI) as a means of online-monitoring of brain activation. By giving feedback based on their own fMRI signals, patients learn to control their brain activity and self-regulate disordered brain networks.
The main goals of our research consortium, consisting of 13 centres and funded by the EU FP7 programme, are to develop and refine methods for the rt-analysis and feedback of fMRI data. Furthermore, we are combining other imaging modalities. Thus, fMRI-mapping techniques can be adapted for the localisation of disease-relevant networks. In addition, protocols for the self-regulation of the patients' brain activity through neurofeedback are developed.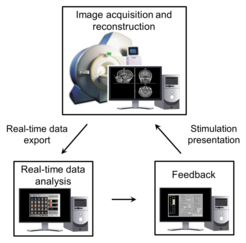 We also assess the feasibility and clinical effects in several mental, metabolic, and neurological disorders (autism spectrum disorders, alcohol addiction, post-traumatic stress disorder, childhood anxiety dis­or­ders, binge eating disorder, obesity, and depression).
As part of the BRAINTRAIN consortium, our focus at MPI CBS Leipzig is the optimisation of fMRI acquisition and reconstruction in terms of high BOLD sensitivity, specificity, high acquisition and reconstruction speed. A whole brain image is ideally acquired in less than one second in the context of rt-fMRI neuro­feedback for facilitating the learning process. To allow newly developed methods to be used in real-time conditions and to be platform independent, we aim to reconstruct images on external fast computers with open-source software (e.g. Gadgetron).