Compatibility of research and family
The balance between research and family is very important to us and requires the support of employees in different areas.
Audit Career and Family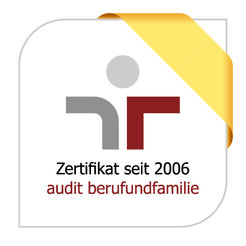 On September 30th 2018, the Max Planck Society (MPS) was awarded their fifth audit certificate from the Berufundfamilie Service GmbH and the non-profit Hertie Foundation. The society also received the 3-year award in 2006, 2009, 2012 and 2016. The audit certificate is under the patronage of the Federal Minister for Family Affairs, Senior Citizens, Women and Youth and the Federal Minister for Economics and Energy.
To receive the award the MPS and their respective institutes were comprehensively evaluated for the compatibility of occupation and family. The MPS has once again demonstrated their continued commitment to family-conscious policy in corporate culture. The MPS consciously focuses on a family-friendly policy for its personnel in order to remain a TOP employer for all present and future employees. With a wide range of offers for equal opportunities and the compatibility of career and family, such as cooperation with childcare facilities close to the company or a nationwide family service, but also with flexible work opportunities, it is setting the course for the future and taking demographic change into account.
The Max Planck Society provides all employees of our institute with a comprehensive portfolio of services to support the compatibility of research and family.
Our Institute advises and supports employees during the family planning phase and offers advice on childcare and support facilities. In addition to our own daycare facility for 0-3 year old children, we can offer active support in the search for kindergarten and school places. The Institute also has a contract with the family service company to provide care (including care for the elderly).
We offer flexible, family-friendly working hours and the possibility of home office.