History and Profile
Two institutes become one
The Max Planck Institute for Cognitive and Brain Sciences on Stephanstraße, Leipzig, was founded on the 1st of January, 2004. The former Leipzig Max Planck Institute of Cognitive NeuroScience was merged with the Munich Max Planck Institute for Psychological Research. With the merger of the two institutes, the Max Planck Society took account of the fact that psychological and neuroscientific research have been moving ever closer together, throughout the world.
The merger was decided at the annual meeting in Hamburg on the 5th of June, 2003 by the Senate, the highest decision-making body of the Max Planck Society. After a two-year interim phase, in which the course was set for the future work of the new Max Planck Institute and both institutes continued their successful research, the Munich MPI moved to Leipzig in 2005/2006. This brought with it decisive advantages. The exchange with the neuroscientific-oriented Leipzig groups has opened up new research perspectives for the Munich scientists, which until that point had been predominantly behavior-based. Conversely, the Leipzig groups benefited from the broadly based behavioural environment and the experimental methods developed in Munich.
Space for research
Today the institute consists of four departments and eleven independent research groups. Each department is headed by a director, who is autonomous in their scientific activities and a permanent member of the Institute. The independent research groups, on the other hand, are run by --- , who are autonomous in their research activities but only remain in existence for a period of five years. The Max Planck Society thus offers young scientists the opportunity to lay the foundation for a successful career at an early stage in their careers.
The departments and research groups are made up of researchers from a wide variety of disciplines: physics, philosophy, biology, linguistics, psychology, mathematics, computer science, and medicine. This interdisciplinarity is more than just lip service. Experimental researchers can only gain new insights from their imaging data if these are correctly read and interpreted. The analysis of imaging signals with complicated modeling procedures is a fundamental part of daily routine. Scientists who come to the MPI for Cognitive and Brain Sciences not only work in teams of renowned researchers, but can also expect to use advanced equipment with approved methods and expertise. A library with 325 scientific journals and more than 16,000 media units offers the necessary theoretical background knowledge.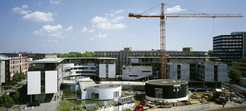 In 2005 the institute was extended with a building on the directly adjacent property. Since the inauguration of the new building in autumn 2008, the approximately 350 employees have found an all-round optimal environment for their research. A section of the extension has housed the institute's new 7 Tesla scanner since summer 2007. In 2016, the Connectom super-brain scanner was added (Link), one of the three most advanced brain scanners in the world. The Connectom allows measurement of the internal wiring of the brain and is the only one of its kind on the European continent.