Angela Friederici honoured with Justine and Yves Sergent Award
Angela D. Friederici is the first German-speaking prizewinner to receive the Justine and Yves Sergent Award.
The award was presented at a conference at the University of Montreal, which was specifically organized for this purpose where Angela D. Friederici gave an overview of her research on "Language in our brain".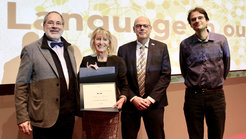 The Justine and Yves Sergent Award is presented to outstanding female researchers who have gained an international reputation in the field of cognitive neuroscience, working mainly at the interface between cognitive neuropsychology and functional brain imaging.
The award and the conference were inaugurated to preserve the memory of Justine Sergent, a pioneer in cognitive neuroscience, and her husband, the psychologist Yves Sergent.