Recognising dyslexia in time: Foundations laid for future early test
With the help of brain activity and gene analyses, it could be predicted in time whether a child could be affected by dyslexia.
Five years of common research has made it possible: An early test which recognises widespread dyslexia in time—and would therefore spare about five per cent of children a long path of suffering. Scientists at the Max Planck Institute for Human Cognitive and Brain Sciences and the Fraunhofer Institute for Cell Therapy and Immunology (IZI) have succeeded in laying the foundations for a test which, with the help of brain activity and gene analyses, could predict whether a child could be affected by this disorder. The conclusion of their research project LEGASCREEN offers an opportunity to reflect on current and future dyslexia diagnosis.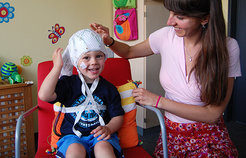 Words stretch and break up, letters are unrecognisable. One in 20 children, that is, at least one pupil per class, despairs when reading or writing words and sentences—despite being normal or generally intelligent. They suffer from dyslexia, a congenital defect in the brain. For an affected child, it can mean longstanding failures at school, often without knowing the real reason.
To spare the children this fate, Leipzig's scientists at the Max Planck Institute for Human Cognitive and Brain Sciences (MPI CBS) and the Fraunhofer Institute for Cell Therapy and Immunology (IZI) have spent the last five years successfully laying the foundations for an early dyslexia test. By examining brain activity and genes, it will be possible to indicate in time whether a child will suffer from dyslexia or not.
Causes found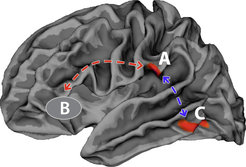 "We now know that there are two crucial changes in children's brain structure which cause this disorder. On the one hand they have a thinner cortex, especially in one specific region of the left hemisphere", explains Jens Brauer, neuroscientist at MPI CBS. "On the other hand the fibre tracts between two important language areas which act as a kind of data highway to transport the information between these two brain areas are less developed", adds his colleague Michael Skeide, linguist at MPI CBS.
Electroencephalogy (EEG) offers a promising approach to reveal changes in the cortex. Here, a child listens to a chain of the same syllables or sounds that is sometimes interrupted by another sound or tone. If the child does not find it hard to notice the irregularities and if their brain activity shows the typical amplitude, their reading skills are largely well developed. If this is not the case, it could indicate an impending dysfunction. "With the help of these investigations we can recognise, by means of the neuronal reaction, when the information relevant for language is processed differently from the normal way and thereby identify those afflicted by dyslexia—even at kindergarten age", says neuroscientist Brauer.
Combining brain activity and genes
However, the sole prognosis by means of the EEG is not significant enough. Therefore, the scientists also want to use the explanatory power of the genes. Since there is up to a 70 per cent chance of inheriting dyslexia, a simple saliva test could predict the disorder even more precisely. As a precondition for this, the scientists have identified a comprehensive list of DNA variations that are involved in this disorder in German dyslexics. "For instance, we could prove for the first time that the long-time suspected gene KIAA0319 does in fact have an impact. It influences how we process language at an early stage by affecting the processing of sounds in the brainstem", says Arndt Wilcke, neurogeneticist at Fraunhofer IZI.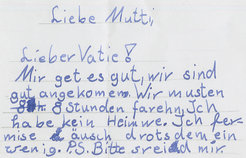 Wilcke and his team have finally developed a genetic risk score based on 25 DNA variations that are especially important for dyslexia. This score combines the negatively changed gene variations. The greater the number of these variations found in a child, the higher the score and the higher the risk of being affected by dyslexia. For some of these variations the neurogeneticists filed a patent for so-called marker genes that signal impending dyslexia.
"By combining indications of the brain and genes, we hope for an even higher detection rate. Now we have to refine the two single procedures and to confirm them in a further independent sample. It will then reveal if our previous findings can be implemented in an early test", Wilcke says. "We are confident that we will be able to take the decisive steps in the coming years. A simple precise diagnostic method using EEG and a saliva test would be within our grasp", he adds. Their goal is to develop it into a marketable commodity.
Parents support early test

The results of a representative survey among parents of children between the age of three and seven—the future target group—show that such an early test would be well received. Nearly 90 per cent of the respondents evaluated such a test as reasonable. More than 80 per cent would let their own child be investigated by such a method—more than half of them would even pay for the cost of the tests privately.
Chancellor Angela Merkel expressed great interest in such a test procedure, and, in February of this year, she invited the leader of Legascreen to present the project as one of ten particularly innovative research projects within the event "Perlen der Forschung". There, project leader Angela D. Friederici explained her vision to the chancellor: "If we succeed in diagnosing the majority of the affected children in a medical examination before they attend school, we could start to offer targeted support opportunities in order to compensate many of their deficits. Not only do we open doors to give children the same chance to gain a good education, we also facilitate their participation in society, helping them to lead a content life."