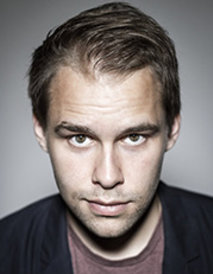 © privat
Toni Muffel, M.Sc.
External guest researcher
Main Focus
Project 1: Neuroimaging and Robotic Assessment of Instantaneous (Online) Effects of Transcranial Direct Current Stimulation (tDCS) in Sensorimotor Stroke Patients 
Patients with sensorimotor deficits in the chronic phase after stroke exhibit a number of marked changes in brain physiology and structure. Such changes result from the direct damage (the lesion) induced by stroke but also usually extend to other brain regions within or across brain hemispheres. The basis of these changes are both reparative brain processes and the behavioral patterns of day-to-day activities after stroke. In recent years, various non-invasive brain stimulation techniques (NIBS) have been developed which allow a modulation of such plastic processes, potentially promising better outcomes in stroke rehabilitation. Transcranial direct current stimulation (tDCS) is one such method. Here, weak direct currents are applied through small electrodes on the scalp. These currents penetrate into the brain tissue where they exert a locally excitatory or inhibitory effect. In the scope of this project, we want to investigate the instantaneous or "online" effect of two different tDCS approaches. To determine which of the two approaches induces the strongest modulation of brain physiology and behavior, we use non-invasive brain imaging (functional and structural magnetic resonance imaging) and a complex robotic assessment of upper extremity motor function (KINARM exoskeleton). 

Project 2: Dependency of Instantaneous Transcranial Direct Current Effects on Healthy Ageing
Natural ageing has a strong effect on the function and structure of the human brain. It has been shown previously that non-invasive brain stimulation techniques exert different effects in healthy elderly subjects as compared to younger healthy subjects, which implies an age-dependence of stimulation-induced changes. Since stroke is a disease that occurs more frequently in the later period of life, it is important to investigate the relationship between natural age-related brain changes and acquired brain damages, for both seem to shape individual responses to stimulation. To investigate the dependence of transcranial direct current stimulation (tDCS) on natural ageing, we investigate a cohort of younger (aged 18-35) and elderly subjects (aged 60-85) in an extension to project 1 (see above). Again, we investigate the effect of two different types of tDCS on brain physiology and behavioral performance, as measured with non-invasive brain imaging and robotic assessment tools, respectively. 
Curriculum Vitae
Academic Education

2015 - now

Charité - University Medicine Berlin: PhD Student

2015 - now

International Max Planck Research School on the Life Course (IMPRS LIFE): PhD Student

2012 - 2014

Charité - University Medicine Berlin: Medical Neurosciences, Master of Science

2008 - 2012

Freie Universität Berlin: Psychology, Bachelor of Science

Career

2015 - now

Max Planck Institute for Human Cognitive & Brain Sciences Leipzig | Department of Neurology: Doctoral Studies

2015 - now
Freie Universität Berlin | Department of Education & Psychology: Lecturer

2014
Charité - University Medicine Berlin | Department of Experimental Neurology & NeuroCure Clinical Research Center | Cognitive Neurology Group: Master's Student
2013

Freie Universität Berlin | Center für Digitale Systeme: Freelance Web Designer

2012 - 2014

Freie Universität Berlin | Department of Education & Psychology: Student Mentor

2011 - 2012

Freie Universität Berlin | Department of Affective Neuroscience & Psychology of Emotion: Student Research & Teaching Assistant

2010 - 2012

Freie Universität Berlin | Department of Education & Psychology | Dean's Office: Student Advisor