End-of-Year Symposium
The Leipzig Lectures on Language will finish with a virtual two-day symposium on October 20 and 21, 2021.
The symposium aims to find consensus across the different views presented during the online series. Our program includes:
Two keynote lectures by Wiliam Matchin and Simona Mancini,
four hands-on workshops on advanced methodologies relevant to the combinatorics of language and,
a poster session and a more informal gathering for participants to exchange ideas on future research.
We hope that this will foster networking and collaborations, leading to new ideas on how to move the field forward.
Timetable & Programme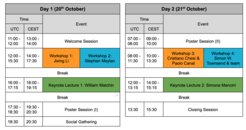 Participants can download a PDF version of the programme here.
Hands-on Sessions
The following four hands-on sessions will be held during the symposium. Participation for every workshop is limited to around 30 people. Notice also that two sessions will always be held in parallel, meaning that every participant can at most participate in one workshop every day of the event.
Please find the abstracts for the differnt workshops in the symposium booklet.
Keynote Speakers
William Matchin, University of South Carolina (USA)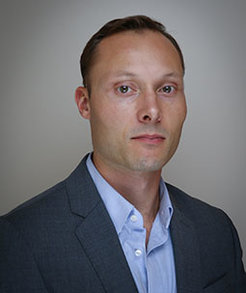 Keynote 1 (October 20, 4pm UTC): Public live-stream on YouTube
Grammatical parallelism in aphasia revisited
The study of aphasia has driven our understanding of the neurological organization of language since the 1800s, leading to the development of the classical model of Wernicke, Lichtheim, and Geschwind, in which Broca's area primarily supports language production. In the 1970s, novel experimental paradigms revealed apparent syntactic comprehension deficits in people with fluent Broca's aphasia and expressive agrammatism. This lead to a widespread movement away from the classical model and towards models of language organization in the brain positing a central syntactic function to Broca's area. I will present data from several studies of syntactic ability, both in comprehension and production, in people with post-stroke aphasia, showing that damage to the frontal lobe and expressive agrammatism are not associated with syntactic comprehension deficits, contrary to the contemporary received view regarding grammatical parallelism. By contrast, damage to the posterior temporal lobe is associated with both syntactic comprehension and production deficits, a grammatical parallelism consistent with Wernicke's original ideas and the theoretical model developed by Matchin & Hickok (2020).
Simona Mancini, Basque Center on Cognition, Brain, & Language (Spain)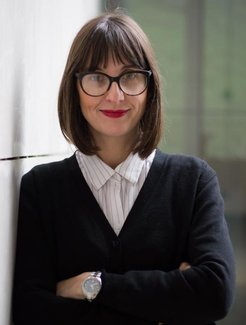 Keynote 2 (October 21, 12pm UTC): Public live-stream on YouTube
Feature combinatorics
In spite of their structural diversity, human languages share the basic goal to convey fundamental coordinates about the world, such as the time and the temporal organization of an event, the gender, the role and the relation between the individuals involved in an event, to name a few. During comprehension, these properties, or features, are effortlessly extracted from the linguistic input by readers/listeners, who use them to build relations among words and eventually establish the overarching meaning of a sentence. How are these features handled by the comprehension system? Are they differentiated? And if so, when and how? In this talk I will show how distinct types of features and the relations they are involved in are processed, providing eye-tracking, electrophysiological and neuro-anatomical evidence for common and feature-specific mechanisms at work at distinct interface levels.

Poster Session
Due to the virtual nature of the event we have opted to split the poster session into two individual session in order to accommodate time zone differences. The two sessions will take place at different times (one in the [Leipzig] evening and one in the [Leipzig] morning), as indicated in the programme. We hope that this will make it possible for our presenters to at least attend one of the two sessions and share their work with other participants.
The final programme for our poster sessions is part of the symposium booklet which can be download here.
Registration
Registration is closed.
The two keynote lectures will be live streamed on our YouTube channel without any need for prior registration.